Sandow Birk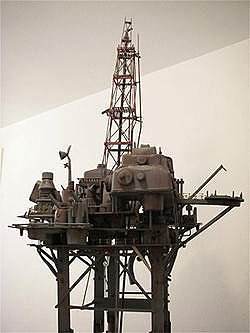 Los Angeles artist Sandow Birk is a well traveled graduate of the Otis/Parson's Art Institute. Frequently developed as expansive, multi-media projects, his works have dealt with contemporary life in its entirety. With an emphasis on social issues, frequent themes of his past work have included inner city violence, graffiti, political issues, travel, war, and prisons, as well as surfing and skateboarding. He was a recipient of an NEA International Travel Grant to Mexico City in 1995 to study mural painting, a Guggenheim Fellowship in 1996, and a Fulbright Fellowship for painting to Rio de Janeiro for 1997. In 1999 he was awarded a Getty Fellowship for painting, followed by a City of Los Angeles (COLA) Fellowship in 2001. In 2007 he was an artist in residence at the Smithsonian Institute in Washington, DC, and at the Cité Internationale des Arts in Paris in 2008.

The California Dreaming sculptures were done in collaboration with artist Elyse Pignolet
and are now part of the permanent collection of the Long Beach Museum of Art.
---